All Your Google Ads Data Into One Convenient Dashboard
Track the success of your campaigns and measure ads performances using our real-time Google Ads dashboard, a cutting edge reporting tool that helps you understand your AdWords' full potential.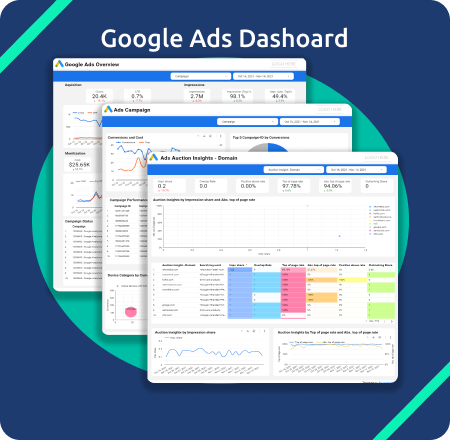 What is the need for a Google Ads Dashboard?
Popular Metrics and Dimensions That Our Users Add On Their Google Ads Dashboard
Impressions | Clicks | CPC | CTR | Cost | Campaign | Campaign Status |  Conversions | Conversion Rate | Auction Insights | 
Why choose Powermetrics' Google Ads Dashboard?
Automated for Good – No more collecting the data and copy-pasting on the excel sheets each time you create a report. With Google Ads Dashboard, we have automated this complete process for you, so you stay in action!
Customisation for ease – Start instantly using preset templates or create your own Google Ads Dashboard with drag and drop options so that you can choose the way you want your dashboard to look.
Gain real-time access – All the key metrics that are important to judge the performance of your Google Ads campaigns can be accessed in real-time. This way, you have access to the right information without any delay.
Build a dashboard that focuses on the key metrics of your campaign in a mere few clicks
With our customised Google Ads Dashboard, you can quickly and accurately monitor, analyse, optimise and report Google Ads campaigns more efficiently. Thus helping you find the right keyword and right audiences to stay on top of your competition.
Frequently Asked Questions
Get your Google Ads Report Template with a few clicks