Google Analytics Dashboard
A Professional and Customizable Google Analytics Dashboard!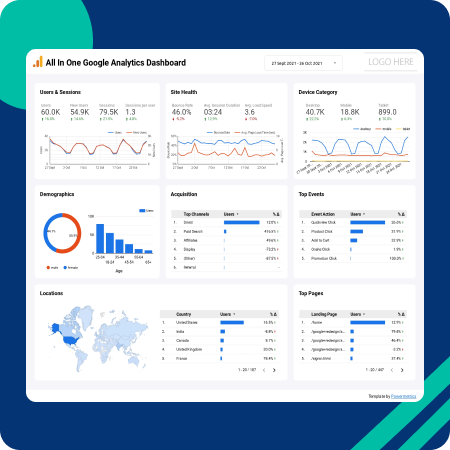 A professional and customizable Google Analytics dashboard is the foundation of any website that soars high. Not only does the GA dashboards help in visualizing and the website performance, but it also conducts a deep analysis of all the KPIs linked to it. Powermetrics GA Dashboard breaks the limitations of conventional Google Analytics, helping you glance over all the crucial metrics of your website data.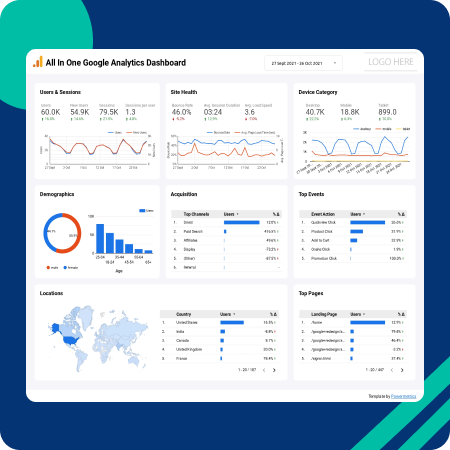 Customized Google Data Studio- Make the most of the website data.
Top key metrics displayed on our custom Google Analytics Report.
Users | Sessions | Pages per session | Devices | Source/medium | Channels | Pageviews | Unique pageviews
Difference between buying a ready-to-go dashboard and building your own dashboard
Time : Building a Google Analytics Dashboard for your website all by yourself requires a lot of effort. Whereas when buying an off-the-shelf dashboard like Powermetrics, customizing as per your needs and integrating on to your website requires less than an hour!
Cost : The cost involved in building your own dashboard is significantly higher than buying one. Making even a simple dashboard may cost you thousands of dollars. At Powermetrics, our paid plan for creating Google Analytics Dashboard starts from
 $70/per hour.
Updating : Creating a dashboard on your own would need you to contact the developer or file a ticket each time you make iterations. While if you buy a plug and play Google data studio, you can apply changes easily and make your dashboard meet all your future needs.
Frequently Asked Questions
Get your Google Analytics Report Template with a few clicks